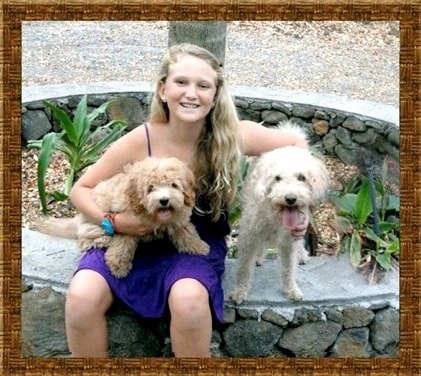 Bob & Debi Cary Kailua-Kona, Hawaii (808) 329-7531
& Maiana email us at: [email protected] fax (808) 329-5470
Our grandaughter, Maiana, has helped us for many years and wanted her own little dog to adore, so we got Lacie. Then the fun began for Maiana! She has enjoyed training Lacie, an F1B Labradoodle, who is 20 pounds of silly antics.
Lacie had Chia in November 2011. The sire was Redford from Spring Creek's Labradoodles. He is a multi-generational Australian Labradoodle.
Chia had Janie with Springcreek's Bond 007 in 2016. She is our only breeding Labradoodle now.
Click on a photo for Slideshow
or larger photos